CUSTOMS BROKERAGE
REFUND TAX COUPON (BLUE CORNER)
IMPORT & EXPORT CUSTOMS CLEARANCE
TAX REFUND UNDER SECTION 19 BIS.
CONSULTANT FOR CUSTOMS & B.O.I FORMALITIES
DOOR TO DOOR SERVICE
FORMALITY E.P.Z., FREE ZONE
BONDED WAREHOUSE
RE-EXPORT
Export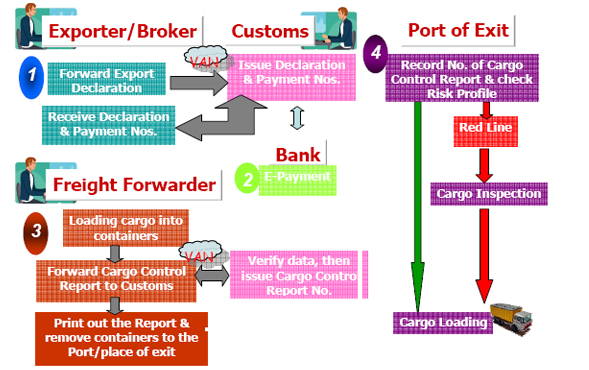 Goods intended for export from Thailand are subject to normal export procedures. For Customs purposes, an export is the removal of goods by ship or aircraft from a place in Thailand to a place outside Thailand. All goods being exported from Thailand are subject to Customs control and must be reported to Customs.
Customs role in the exportation of goods is to ensure that all goods being exported from Thailand are reported as required; and administer controls on behalf of permit issuing agencies on the export of restricted goods. In addition, Customs also gather information regarding the nature and volume of exports to assist government and industry in policy and decision-making.
Unless specifically exempt, goods may not be loaded on a ship or aircraft for export unless they have been entered for export in the Customs system and Customs has given approval to export. Most applications for an Export Declaration are submitted electronically via the e-Export system.